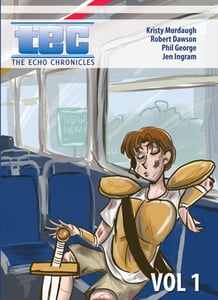 $

15.00
Meet the heroes everyone wishes didn't exist
Bran Kidd and his band of modern-day knights want to be the saviors of New Mercy. Unfortunately, most of the citzens just want them to rot in a prison cell.
On a fateful mission, Bran meets a mysterious priestess and gets tangled up into the affairs of her dramatic family. It's time for him to learn what being a hero really means, even if it kills him (or just maims him horribly, he's pretty accident prone).
This collection is the first five chapters of the ongoing webcomic now in color! Many panels have been retouched and redrawn as well. Other extras include character profiles, fanart, and an exclusive short story by our co-writer Phillip George.